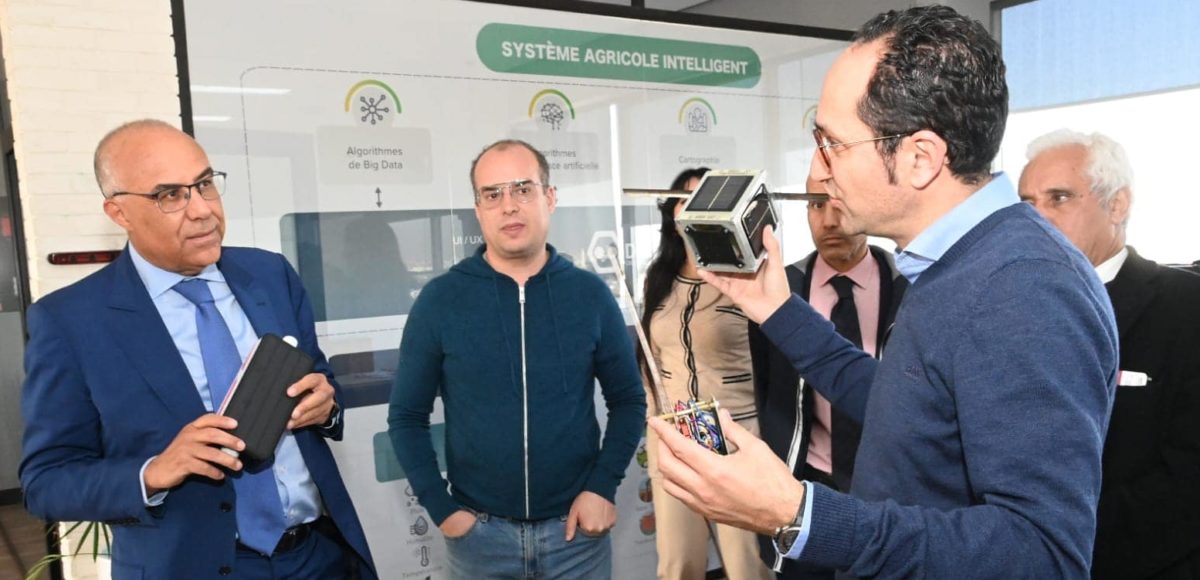 The Minister of Higher Education, Scientific Research and Innovation, Mr. Abdellatif Miraoui, visits the Engineering, Innovation and Service Management Center of the "Aba Technology" group in Casablanca.
The Minister of Higher Education, Scientific Research and Innovation, Mr. Abdellatif MIRAOUI, visited, on Friday February 3, 2023, the Technological Center for Innovation and Management of Services of the "Aba Technology" group installed at the Technopark, Casablanca.
During this meeting, there was an emphasis on the importance of partnerships between the center and Moroccan universities as a model of cooperation between the public and private sectors. The Aba Technology group, expert in the field of the Internet of Things (IoT), Artificial Intelligence and edge computing as well as advanced technologies related to the sectors of health, smart city, industry 4.0 and augmented logistics, will participate in the development of many services and platforms within the university ecosystem.
In this regard, the CEO of the Aba Technology group, Mr. Mohamed BENOUDA, expressed his desire to not only contribute to the training and supervision of students, especially those with innovative projects, but also to develop partnerships with researchers in the field of innovation and new technologies, and help and their deployment in different sectors such as agriculture, education, industry, health, etc.
During this meeting, the possibility of strengthening pharmacy, dentistry and medicine faculties with digital platforms and connected equipment that can provide the possibility of carrying out medical consultations remotely, using artificial intelligence was discussed.
من جانبه، أكد السيد الوزير على أن الوزارة في إطار المخطط الوطني لتسريع تحول منظومة التعليم العالي والبحث العلمي والابتكار، تسعى إلى تنويع العرض الجامعي وتجويده حسب المعايير الدولية بشكل يستجيب للأولويات الوطنية وحاجيات المجالات الترابية، وجعل هذه الأخيرة مجالات مبتكرة تعزز امتيازاتها المقارنة وتوفر فضاء ملائما للشباب من أجل المبادرة الحرة.
THE MINISTER VISITS THE TECHNOLOGICAL CENTER FOR INNOVATION AND SERVICE MANAGEMENT OF THE "ABA TECHNOLOGY" GROUP
Casablanca, Friday 03 February 2023
Le Ministre de l'Enseignement Supérieur, de la Recherche Scientifique et de l'Innovation, M. Abdellatif MIRAOUI, a visité, le vendredi 3 février 2023, le Centre technologique d'innovation et de management des services du groupe « Aba Technology » installé au Technopark, Casablanca.
Au cours de cette rencontre, l'accent a été mis sur l'importance des partenariats entre le centre et les universités marocaines en tant que modèle de coopération entre le secteur public et le secteur privé. En effet, le groupe Aba Technology, expert dans le domaine de l'Internet des Objets (IoT), de l'Intelligence Artificielle et du edge computing ainsi des technologies de pointe liées aux secteurs de la santé, de smart city, de l'industrie 4.0 ainsi que de la logistique augmentée participera au développement de nombreux services et plateformes au sein de l'écosystème universitaire.
A cet égard, le PDG du groupe Aba Technology, M. Mohamed BENOUDA, a exprimé sa volonté de vouloir contribuer à la formation et à l'encadrement des étudiants, notamment ceux porteurs de projets innovants, mais aussi de développer des partenariats avec les enseignants-chercheurs dans le domaine de l'innovation et des nouvelles technologies et leur mise en application dans différents secteurs tels que l'agriculture, l'enseignement, l'industrie, la santé, etc…
Au cours de cette rencontre, la possibilité de renforcer les facultés de médecine, de pharmacie et de médecine dentaire de plateformes numériques et d'équipement connectés a été abordée.
M. le Ministre a, pour sa part, souligné que, dans le cadre du déploiement du PACTE ESRI 2030, le Ministère compte diversifier et renforcer l'offre universitaire et l'aligner aux standards internationaux de manière à répondre aux priorités nationales et territoriales et d'en faire des espaces innovants, permettant aux jeunes de lancer leur propre initiative.